Miguel Angel Estrella, pianist
Refugiee from Argentina between 1981 and 1985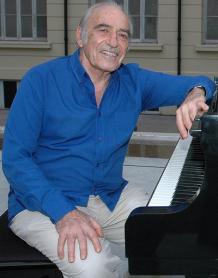 He was born on 8 July 1936, in San Miguel de Tucumán (north-western Argentina). Attracted to music at a very young age, he decided to become a pianist. While studying at the Buenos Aires Conservatory, he performed in the slums with his wife, in a bid to try and make music accessible to all. This attitude earned them the reputation of communists by the authoritarian regimes that emerged in the wake of successive coups.

Miguel Angel Estrella continued his music studies in Paris from 1965 onwards, but he wanted to return to Argentina despite the dictatorship. In 1976, he was prosecuted by the ruling junta after which he left the country, but was arrested in Uruguay in 1977. For several years, he was among the 30,000 people who were "disappeared" by the Argentine dictatorship, and who were pursued even into neighbouring countries as part of Operation Condor, through which the military security services of Argentina, Chile and Uruguay hunted down opponents.

An intense solidarity campaign was initiated, and thanks to this campaign, his detention in the Libertad prison was made official. He was released in February 1980 and went to France where he was recognised as a refugee by Ofpra in 1981.

He had continued to play in his cell with a muted keyboard, working relentlessly to restore his torture-damaged hands. He resumed giving concerts in 1982 and, to thank the musical world for having "saved him from hell", he created Musique Espérance, a foundation that aims to facilitate access to music for all and to promote respect for human dignity. Naturalised as a French citizen in 1985, he continued to perform and campaign to make music accessible to the most marginalised social groups. He was appointed UNESCO Goodwill Ambassador in 1989 and he created the Orchestra for Peace, composed of young Christian, Muslim and Jewish musicians. In the year 2000, he received the Nansen Refugee Award and the United Nations Award for the Three Americas. Argentine Ambassador to UNESCO from 2003, he was a member of the Sponsorship Committee of the Russell Tribunal on Palestine (RToP). His was distinguished as Chevalier de la Légion d'Honneur (Knight of the Legion of Honour). He died in 2022.