Georges Gueyraud (1897-1970)
Directeur of Ofpra from November 1954 to April 1962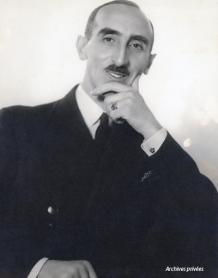 Minister Plenipotentiary
Distinction : Officier de la Légion d'honneur
Georges Gueyraud, a lawyer by training, served as Chancellery Attaché in Trieste from 1920 to 1921 before moving on to a central government position.
He launched his career as a diplomat and consul in 1925. He served as Consul in Venice from 1930 to 1935 and then in Zagreb until 1943. His credentials were revoked by the Vichy government in March 1944.
Prior to becoming the Director of Ofpra, he served as First Counsellor in Ankara from 1945 to 1947, then worked in a central government position from 1947 to 1949. He was Minister Plenipotentiary in Jeddah from 1949 to 1952 and Ambassador Extraordinary and Plenipotentiary to Yemen from 1952 to 1954.