Jacques Companeez, scriptwriter and dialogist
Refugiee from Russia between 1951 and 1956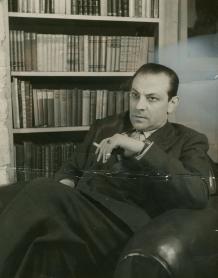 Jacob Kompaneizeff alias Jacques Companeez was born on 5 March 1906 in Nijyn (Ukraine) into a Jewish family. His father, Wladimir, was a medical doctor. After graduating from high school in St. Petersburg, Jacob began his studies at the university. He had to give them up after only a few months following a "purge" the Bolsheviks inflicted on the students: as a doctor's son, he was unable to attest to a working-class background.

Thanks to his father, he obtained a passport to travel abroad and was able to leave Russia in 1925. He moved to Germany where he continued his studies at the Polytechnic School in Strelitz (Mecklenburg), graduating as an electrical engineer in 1929. During this period, his father, unable to reconcile his ethics as head of the clinic with the demands of the regime, took his own life. Jacob then decided never to return to Russia.

In 1930, Jacob married Tamara Stein, a Russian refugee with a Nansen passport. His first daughter, Irene, was born in Germany. But Jacob was driven out of his job as an electrical engineer by anti-Jewish laws. He became a screenwriter for German films. In 1933, he wrote the screenplay for Max Mack's Tausend für eine Nacht. However, he was marginalised again and had to continue working under a pseudonym. Faced with mounting threats, he left Germany for France where he arrived on 5 March 1936. His second daughter, Nina, was born there on 26 August 1937.

He continued to work as a scriptwriter in France. Thus, he contributed to more than 80 films, including Jean Renoir's Les Bas-fonds (The Lower Depths), featuring Jean Gabin and Louis Jouvet, which he adapted with the writer Ievgueni Zamiatine from the eponymous play by Maxim Gorki.
Jacques continued to write under a pseudonym for production company Continental while under threat during the occupation, while working covertly in Nice and Juan les Pins from 1940 to 1944.

Back in Paris, Jacques Companeez, who had kept his Soviet passport in the hopes of bringing his mother to France, realised that this hope will never materialise and that keeping in touch with his mother was putting her at risk. It was then that he applied for and was granted refugee status in 1951. The following year, he wrote the screenplay for Jacques Becker's film Casque d'or (Golden Helmet), starring Simone Signoret.

Jacques Companeez died on 13 September 1956. He was naturalised after his death in 1957, along with his daughters, the film director Nina Companeez and the singer Irène Companeez.